CLD Education days - Lilo Fore Clinic • June 27 - 28, 2016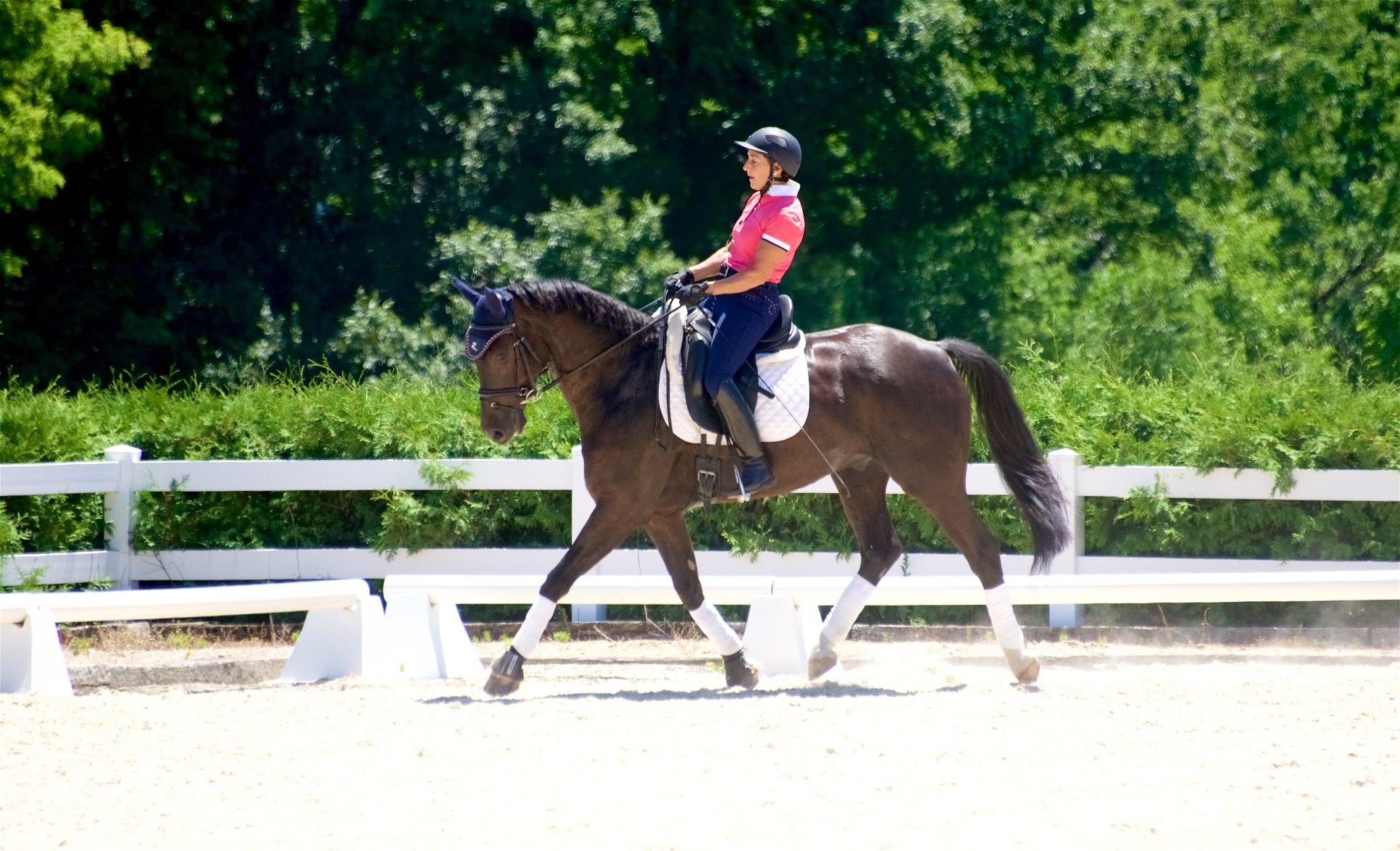 About the Clinic - From a Rider Rachel Hill-Jordan
The Lilo Fore clinic started at 7:00 on Monday June 27, 2016. It was extraordinarily hot for the end of June. I was the second ride of the day at 7:45. As I walked out to the arena on my already moist horse, I took in the absolute beauty of the facility. StarWest's outdoor arena resembles a top notch show ring. The footing is bright white, you are surrounded by gorgeous rolling hills and turn out paddocks. It was a beautiful setting for a clinic.
Lilo approached and asked me about my horse as well as myself. I answered with a shaky voice, "This is Ditto, an Oldenburg-Friesian cross." After all I was speaking to one of the highest ranked judges in my sport! I have an incredible amount of respect and admiration for her. She instantly set my nerves at ease by boasting about her Northern California weather. She stated that this heat and high level of humidity was not her norm. As she sat in the judges box, she told me to start warming up the way I usually ride. I start with rising trot, getting his hind legs to wake up a bit and getting him long and over his back. She immediately commented on my left rein as I was tracking right. "Your left hand is restricting his left shoulder" she chirped. Lilo was not sugar coating anything. Being a professional rider, I really appreciate an honest clinician. I instantly clicked with her style.
RIDERS
Paula Briney/Chambord or Wilemina
Lynn Gregory/Chanel
Deb Klamen/Westerstorm
Kate Fleming-Kuhn/Zlatan M.Ge & Richthofen 7
Pat McVary/Aureo
Judy Nordstrom/Esteban
Rachel Hill/Debonair
Martin Kuhn/Washburn SW & Paddington
Lilo Bio
Liselotte (Lilo) Fore is the owner of "Sporthorse America" in Santa Rosa, California. Lilo is being honored with an Equus Award for playing a major role in raising the quality of Dressage training and horses to an international level in Sonoma County. She has offered as many as six Champion stallions at stud at one time, and received national and international awards for Dressage horses from her breeding program.
She grew up outside of Dusseldorf, Germany, where, at age four, she saw her first horse. Lilo says "...from that time on I knew that four legs, a mane and tail would be my life." She came to California in 1971 and bought, for one dollar, an injured three year old American Thoroughbred, Dionysus. Under her training, Dionysus not only healed; he became U.S. "Horse of the Year" in all national levels. She and Dionysus were selected for the USET short list in 1976. Dionysus was only the first in a succession of Lilo's many hard earned and on-going accomplishments over more than 30 years in Sonoma County. She is the winner of numerous national and international Horse of the Year awards for California, USDF and USET. Her judging credentials include: USEF "S" Judge, FEI "I" Judge and Sporthorse Breed Judge. She is among the founders and serves as chair of the USDF Instructor-Trainer Certification Program. She is continuously involved in many educational programs for Dressage trainers, teachers and judges throughout the United States.
Starting in shoulder-in right, I worked on achieving bend without restricting Ditto's outside shoulder. I was required to ride the movement precisely the way she wanted. If I put a finger out of place, Lilo had me restart the movement. My left hand and arm must have been on holiday Monday morning because they were not cooperating one bit. In shoulder-in right I am to ride straighter through Ditto's neck without restricting with the left rein. I was reminded again not to hold on the left. I gave on the left, wrong, I took it back. "You are hanging left again!" She belted. So I firmed my abs and rode him more forward into both reins, I held the left for a mili second then released my elbows slightly. The next thing I heard was "YES! BEAUTIFUL Rachel!"
Once we had our way through both shoulder-ins, it was on to the half passes. I started by maintaining the bend to the left through the corner and up centerline. Ditto was trying to get behind my leg (slow his tempo and become a bit stagnant). Lilo called out "Forward! You can not create cadence if you don't ride forward to the bridle." I had to bang him with my calf a bit to motivate him to push into the bridle. I probably would not have had to motivate him in such a loud manner if my very stubborn left hand had not been so insistently naughty. Of course, in my mind I sigh and think, here is another thing to add to my list of things to work on while in the saddle. The left half pass was coming along fairly well, I thought. Next thing I know she's belting out "Great, Rachel, very well ridden!"
I am trying not to lose my concentration after the compliment. I am completely elated that Lilo thinks I am riding well! We did a few more half passes each direction. She had me circle and start over if I wasn't precisely where she wanted me or Ditto. The right half pass seemed effortless, he was staying bent and traveling forward up into the contact. Ditto was really working hard for me.
Then we are off into canter work. Yay, I thought to myself. I absolutely love Ditto's canter, it is incredibly comfortable. I rode shoulder fore each direction. Lilo minded me about my delinquent left hand to not restrict him while cantering right. To assist in getting the canter, she wanted, Lilo said "Think in collected canter that the horse sinks down behind the saddle and the front end pops up to release the energy."
As we step into the canter half passes I can feel Ditto's hind legs firing like pistons under me. What power he is starting to have! Lilo remarks that she really likes this horse and he has a great hind end. We moved on to some flying change lines. She noticed I was resisting on the left rein. We moved the changes onto the changes onto the quarter lines instead of on the diagonal to better focus on straightness. This helped a lot. I was able to keep a better line and stay parallel to the long side. It also raised a huge red flag when my left hand started restricting him.
By this point Ditto was panting pretty heavily. She thought we had done enough for the day. After all it was only 92 degrees with 80% humidity. She told me I had a great feel and Ditto was a super cute horse that will go far.
Tuesday morning I was pumped for my ride. I had all but memorized the video of my lesson from the prior day. I was determined to make progress in today's lesson. Again I started on a stretching frame to get Ditto loosened up. Poor guy was on day number five of hard riding as the Classic shows immediately preceded the two days of clinic. Ditto is an extremely stoic and tolerant horse so I always keep a close eye on him in this heat.
Once warmed up we started on five meter turns in the canter. The exercise is, canter down the long side and collect the canter before the corner. In the corner turn the horse onto the quarter line. You then ride the quarter line and turn the same direction onto the wall. So you make 5m turns then straight on the long side or quarter line. It's quite difficult for the horse and rider.
Ditto was not wanting to participate in this exercise, he did two turns that were pretty balanced and rhythmic. Lilo let me know that I was doing eight meter turns not five. Oops! After I was corrected, I then corrected the geometry and Ditto found it much harder. A little help with my voice, a touch of the whip, and we got it! The feeling was like no other, his haunches dropped and his front end almost had a rearing feeling. I was thinking to myself how far this horse had come since I purchased him seven short months ago.
We re-visited the changes that we worked on the day before. Lilo commented that there were improvements in straightness. She also told me to stop half halting on the new outside rein when doing the changes in a series. I am to half halt on both reins. It should be more like, "Hello! Wake up! We are going to change now." This method allows me to be faster in my aids. As the trainer, I should always have an even contact on the reins. This also improves the straightness and keeps my over eager left hand even with its significant other.
All in all I had two very educational rides, as well as I got to watch the always lovely rider, Kate Fleming-Kuhn, have her FEI lessons. I learned a great deal watching her school the piaffe and mediums that will impact my own FEI training horses. I want to add a special thank you to CenterLine Dressage, Alice Martin and everyone at StarWest for hosting an incredible educational opportunity.
About the Clinic - From an Auditor Claudia Nissley
CLD created a rare and wonderful opportunity by having the foresight to request Lilo Fore to judge at the CLD Classic I and II shows in Springfield, IL and to hold a two-day clinic afterwards at StarWest facilities. For the riders and auditors, the four-day immersion into Lilo Fore's classic training and judging expertise offered an inside look at one of the world's highest ranked international dressage judges.
As a FEI 5* Judge, Lilo Fore is one of a total of 31 global dressage judges. She has judged at the Pan American Games, World Equestrian Games, and Olympic Games. She is also a FEI "C" Judge for Para-Equestrians and USEF "R" Judge for sport horses. As a master horsewoman, she attributes her success and accomplishments to being, "fair, honest and a good colleague." Her classical dressage background becomes clear as she repeats throughout the clinic, "there are no tricks."
Every clinician has her own analogies and accompanying language to illustrate her points. Owning a fire-engine red Z3BMW, Lilo used a car analogy throughout the clinic. For illustration of one of her key points, adjustability, she likened it to putting the gas pedal on and off. For example, in the canter, make it smaller, then bigger, then smaller, then bigger and so on to achieve adjustability. For illustration of engagement, Lilo stated the horse cannot be moved without the engine running. Therefore, keep the engine on with your legs, and your seat shifts the gears.
The clinic was well balanced with a total of eight riders; four adult amateurs and four professional trainers. Lilo's instructions and comments were consistent among all riders of different levels. She could, and did, inform riders at any time during their ride what the numeric rating would be if they were riding in a test. If it was a lower score, she immediately would direct the rider into an exercise that would improve the score.
Her consistency in her training comes from over 40 years of judging and an extremely keen eye. She has a fantastic memory of horses even though she has judged thousands. She also said she doesn't look at the riders, just the horses. With her experience she knows what the rider is doing by watching the horse. Her comments were balanced in the remarks of what the rider did well, the positive characteristics of the horse and when there were weaknesses or incorrect riding.
(For a better understanding of a judge's perspective, take a look at Wolfgang Niggli's book, Dressage, A Guideline for Riders and Judges, 2003, J. A. Allen, London. It clearly explains what the judge looks for and the rider's responsibilities. The illustrations precisely describe what is and is not correct.)
One exercise Lilo used for almost all of the riders conveyed the concept of adjustability. The rider rode down the long side in canter that went from smaller to bigger then smaller and so on, then a five meter half circle at one end, then down the quarter line adjusting the pace back and forth again, then another five meter half circle back to the long side. This sequence was repeated multiple times until improvement was demonstrated. As the five meter circle was small, many of the upper level horses in the beginning attempted to perform a half pirouette. It is a difficult exercise, however it achieved the desired results for the horse and rider.
Lilo seized upon a quote from a Navy Seal that Martin Kuhn had shared with her in the morning: Discipline equals Freedom. She expanded on the concept and applied it to dressage; Discipline is straightness with supple hind legs. She was using this to describe to a rider to tell the horse what is required of him, then to relax and allow the movement to happen. Throughout the two days of instruction, Lilo said many memorable quotes. A few of them follow, allow yourself to think about her words and use them in your future training:
"Shoulder-in is the mother of all lateral movements."
"Every down transition is really an up transition."
"The length of the reins is the length of the frame."
"Less action, not no action."
"The rider is always training when riding."